Racing tattoos are a unique artwork genre that celebrates cars, speed, motorsport, and the culture surrounding the racing world. From loud, expressive designs to more subtle, minimalist styles – these tattoos have come to represent an expression of personality and style for those who love to express themselves through art. In this blog post, we'll explore some of the most popular racing tattoo designs and their meanings, inspirations, and stories behind them. Whether you're looking for inspiration or want to learn more about these tattoos – this is the place to start!
The Meaning Behind Racing Tattoos
For many, tattoos are a way to express themselves and their interests. For racing fans, tattoos often reflect their passion for the sport. These tattoos can be simple or elaborate, often incorporating speed, style, and art elements.
Racing tattoos often feature images of cars or drivers. They may also include racing flags, checkered flags, or other symbols associated with the sport. Many of these tattoos are done in shades of black and white, but some also incorporate color.
Tattoos are personal expressions, and their meaning can vary from person to person. For some people, a racing tattoo may be a way to show their love of the sport. Others may choose a tattoo representing a driver or team they support. Still, others may get a tattoo as a tribute to a lost loved one who was involved in the racing world.
No matter its meaning, a racing tattoo is sure to add some extra excitement to your life!
The Different Styles of Racing Tattoos
There are many different styles of racing tattoos, each with its unique meaning and purpose. The most common type of racing tattoo is the checkered flag tattoo. This tattoo is usually seen on the arms or legs of race car drivers and indicates the driver's love for the sport.
Another popular style of this tattoo is the finish line tattoo. This tattoo is often seen on the chests of race car drivers and represents the driver's ultimate goal: to cross the finish line first.
Racing tattoos can also show support for a particular team or driver. For example, many fans get tattoos of their favorite driver's number to show their support.
No matter what style of this tattoo you choose, it is sure to add a touch of excitement and adventure to your life!
How to Choose a Racing Tattoo Design
When it comes to choosing a racing tattoo design, there are a few things you need to take into consideration. First, you must decide what kind of tattoo you want. There are two main types of these tattoos: traditional and modern. Traditional racing tattoos are more simplistic in design, while modern ones are more detailed and often incorporate other elements, such as flames or skulls.
Once you've decided on the type of tattoo you want, the next step is to choose a design that reflects your personality and style. If you're a traditionalist, a simple racecar or checkered flag tattoo may be perfect. As an alternative, if you're looking for something with a bit more edge, consider a design incorporating skulls or flames.
No matter what kind of racing tattoo design you choose, make sure it's something that you're comfortable with and represents who you are as a person. After all, this is something that you'll be wearing for the rest of your life!
Also Check: Why Golden Retriever Tattoos are So Popular – 21+ Ideas
Conclusion
Racing tattoos are a great way to show your love of racing and express yourself through art. With so many designs available, you can easily find one that fits your personality and style. Whether it's a full sleeve or just a tiny tattoo to commemorate an essential race in your life, you'll be sure to find something fitting for the occasion! So go ahead and explore the countless options for racing tattoos out there – with all these fantastic choices, turning up the speed on your fashion game has never been easier!
The Top 30+ Racing Tattoos
Every tattoo has a story, and these tattoos are no different. This article explores the top 30+ racing tattoos and the stories behind them.
From simple designs to detailed masterpieces, each tattoo is unique and has a special meaning to its owner. Whether it's a tribute to a fallen friend or family member, or a way to show your love for the sport, each one is beautiful in its path.
We've gathered some of the most stunning and inspiring racing tattoos, so sit back and enjoy the ride!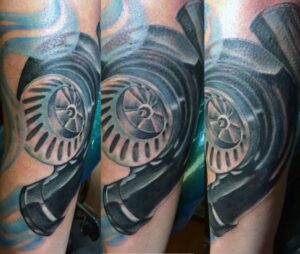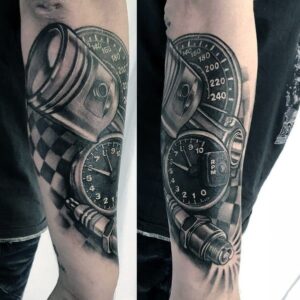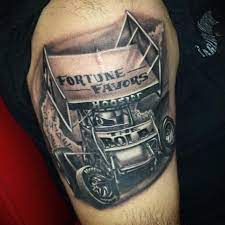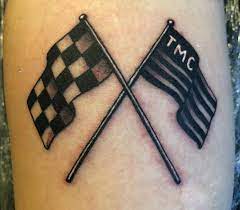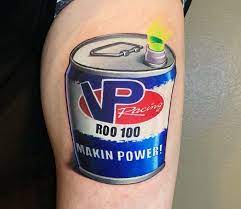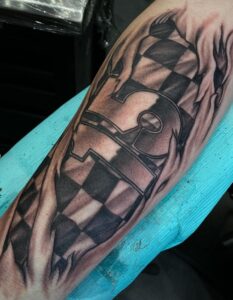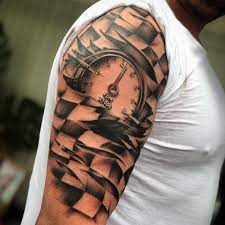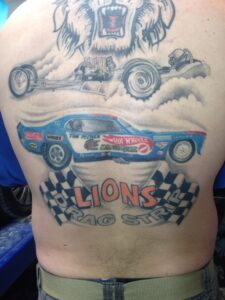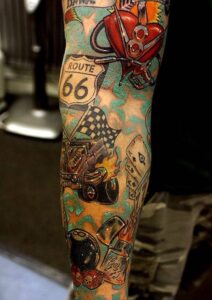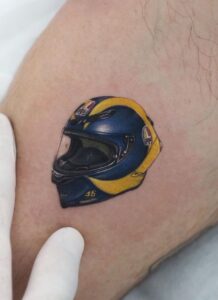 Images source: Pinterest