If you have an old, unwanted tattoo on your wrist, never fear! There are a number of unique designs that can beautifully cover up the area and your existing tattoo art.
Often, covering up the tattoo with a new, fresh design is an affordable alternative to expensive tattoo removal. Not to mention, faded or light-colored tattoos are easy to cover. The artists use dark colored ink to cover the existing tattoos. Here are a few ideas for the best cover-up wrist tattoos.
Colored Flower Tattoo
One option to cover up a tattoo is a beautiful colored flower tattoo. Using a large flower (rose or any flower of your choice), you can easily cover the entire wrist and old tattoo using the colors from your existing tattoo.
Most importantly, always be sure to consult professional, experienced artist for any cover up tattoo. Advanced tattoos artists can most skillfully hide the old tattoo and sometimes even integrate the old tattoo into the new one.
Butterfly and Rose Tattoo
Often, when a person is selecting a tattoo, they prefer a meaningful and personally significant design. In some cases, they mix various types of tattoos to get one intricate and meaningful design. One idea to incorporate into your cover up that also carries meaning is a rose deign.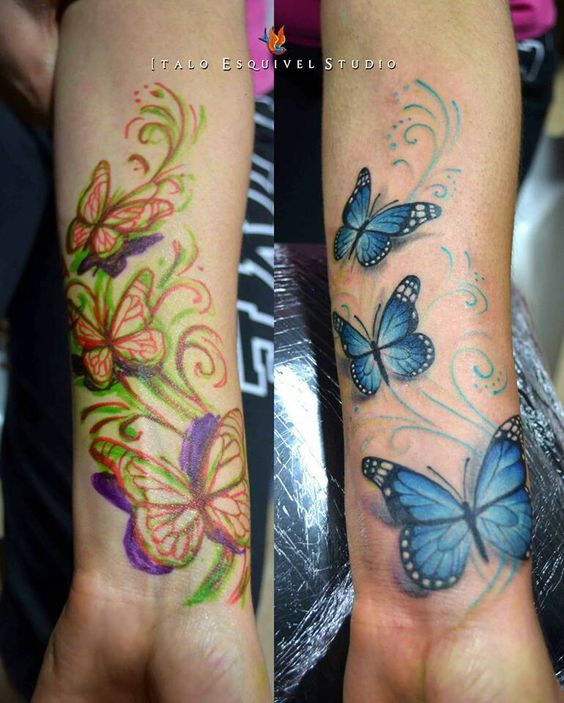 In fact, a rose tattoo is an excellent choice for the wrist specifically. Using various shades of red and black, it is easy to cover up old tattoos.
Additionally, to make your tattoo more meaningful, you can add a butterfly to the tattoo.
This can be a fantastic idea if you need a design to not only cover up the wrist, but also the entire arm.
Love Dove
Additionally, another meaningful symbol often incorporated into tattoos is a dove. The image of a dove is often used to express love. Not to mention, there are numerous great tattoo designs for doves, and it is also a great cover-up tattoo for the wrist.
For a more elaborate tattoo, you can ask the artist to add other love elements to the dove tattoo or even the initials of a loved one. One example is placing a locket in the dove's beak. This visual is both impressive and beautiful. You can also have the dove flying from one end of the wrist to the other. Finally, you can have half dove on one wrist and the other half on the other wrist.
Wrist to Shoulder Tattoo
Not many people like to have the tattoo on the entire arm, but it can be a good choice, especially if you are looking to cover up several tattoos on your wrist and arm. You can start with a rose shoulder tattoo which grows long and ends on the wrist.
Full sleeve tattoos are designs commonly chosen by serious and passionate tattoo lovers. Many people choose to have full arm tattoos on both sides of their body.
The Best Cover-up Tattoo
While a bit less conventional, the best tattoo design for covering your wrist and hiding old tattoos are blood tattoo designs. You can ask the artist to just add the splash of blood (red) color to the wrist. This design is both bold and unique and may appeal to a specific person. However, it may not be the best choice for everyone, but it is an excellent cover-up.
If you are not as adventurous, you can incorporate a smaller blood splash into a larger design or image or select another design with red as a major element.
Wrist tattoos are quite popular, but it is important to love the design on your body.
If you feel your wrist design is no longer the right design for you, consider covering it up with a new design instead of expensive tattoo removal.  However, no matter what you choose, be sure to go to a professional artist or removal expert.
For more of the latest and interesting tattoo designs, read more our blog.
View even more ideas here: